Feel the fish with fiberglass
I started fly fishing in 1992. I was 13 years old back then and I went to a fly tying course instructed by Veli Autti. He is a famous Finnish fly fisher. Who is known and respected in the fly fishing scenery in Finland. Next summer I went to a river and hooked my first grayling with a dry fly. That was it. Only one small grayling and after that moment fly fishing became my life.

Now 26 years later I´m married, I have two kids and wonderful wife and good friends. Passion for fly fishing has grown even bigger and bigger, season after season.

In 2012 I started building rods myself.

I wanted to do something more than only fish and tie flies.

The rods I build are fiberglass rods and what can I say...I am now addicted to rod building as well. I am always excited to start designing and building new rods. Those wicked fiberglass custom rods...and what comes to fishing with fiberglass rods. Rods are durable and light, yet extremely strong.

You can actually feel the fish and enjoy the ride.

​


My first fly fishing experience with a fiberglass rod:

After a long winter in 2013 the spring finally came. During the winter I had been building fiberglass rods but still had not get the chance to fish with one. In April when the first stoneflies started to hatch, I went to river with my new custom build rod and a awesome Bozemanreel.

​The plan was to catch something, even a small fish, so I would know how the rod and reel works. My first fish with fiberglass rod was a beautiful 58cm brownie, taken with a small dry fly. Imagine that! The rod and reel performed perfectly and I was totally sold out.

That was it. No more carbon rods for me. After that trip I sold all my carbon rods and understood, that fiberglass rods are made for me.
I mostly use Bluehalo´s 5wt for dry fly fishing and fishing with small nymphs. 7wt is always my option when I cast bigger streamers or pike flies. Both blanks got more power, than you could actually believe. And when you get a nice trout hooked, you are the one who tells the fish how this fight will end. They got all

I want from a rod. You can easily cast long, or fish short distance really accurately, hold the fish tight, land the fish and release quickly. And no worries that these blanks break, they are extremely durable. Plus they look absolutely amazing.

So get your own custom rod and join the fiberglass family.
Powered by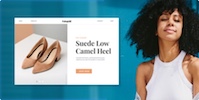 Create your own unique website with customizable templates.